Cindy Reads & Writes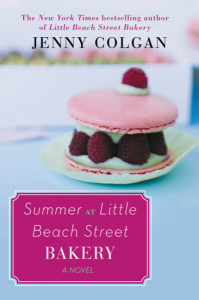 Those who have read my previous reviews, will know that if you want to guarantee getting your book in front of my eyes, all you have to do is either put cute puppies or some kind of absolutely delicious dessert on the cover. Yes, I'm that easy. Of course, my taste in reading is certainly more sophisticated than that, but I do love little dogs and yummy treats.
Jenny Colgan's new novel (or re-released, actually, I'm confused), SUMMER at LITLE BEACH STREET BAKERY (HarperCollins) captured my eye. Who doesn't want to eat what looks like a delicate macaroon with what must be a tasty frost-filling, topped off with fresh raspberries. Please get me two, and a cup of peppermint tea, and I'm ready to sit down and read away.
This is what HarperCollins says about SUMMER at LITTLE BEACH STREET BAKERY:
For fans of Elin Hilderbrand, Jojo Moyes, and Jane Green, SUMMER at LITTLE BEACH STREET BAKERY is an irresistible novel—moving and…
View original post 250 more words